MAI Chicago Fulfillment Services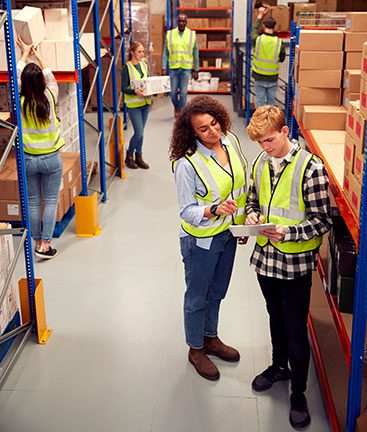 Chicago Fulfillment Center Services
MAI Fulfillment center in Chicago, IL has been perfecting the art of warehousing and order fulfillment for decades. Our seasoned, professional fulfillment and warehouse teams think outside the box to design and manage fulfillment solutions tailored to your company's needs. While others try to make your program conform to their systems, our customized fulfillment solutions help streamline operations to save you time, money, and headaches.
We're committed to helping clients be more successful by utilizing best practices and ensuring:
Efficient, accurate inventory management
Same-day shipping on most orders received by 2:00 PM
Ability to pick/pack/ship B2B, B2C, retail supply chain, and other marketplace sites
Scalability to handle seasonal or promotional fluctuations
A sampling of the types of fulfillment programs capabilities we excel at:
Product Distribution & Sampling
Merchandising & Literature
Training/Education Fulfillment
End-to-end eCommerce Management
EDI Integration
Bulk Distribution
Kitting/Custom Assembly
On Demand/JIT Fulfillment
Integrated Fulfillment Solutions
B2C Fulfillment
MAI offers e-commerce fulfillment as well as product, literature, premium, and direct response fulfillment services. We receive orders via any method required (internet, email/mail, phone, or marketplace partner) and can also provide live customer support via phone, chat, or email, and handle payment and returns processing.
Inventory Management
Our fully-customizable web-based application can accommodate automatic reordering, receiving, shipping, adjustment, return, and/or kitting alerts. The application can be integrated with corporate enterprise systems (such as SAP, JD Edwards, etc.). Monthly cycle counts with reconciliation documentation are standard.
B2B Fulfillment
MAI supports all EDI services and Vendor Compliance requirements. From purchase order receipt, advance ship notifications (ASNs), compliant barcode/parcel labels and invoicing, MAI handles it all.
Integrated Customer Support
Our contact center supports the customer experience 24/7/365. Whether B2B or B2C programs, we'll help you define the right service metrics for your program and support it with experienced professionals, leading-edge communications technology, analytics, and other performance-based tools.
Special Services
Unique fulfillment challenges often call for out-of-the-box thinking and that's where MAI Chicago fulfillment services come in. Our kitting/backorder management system was built to handle everything from product sample kits to large-scale product suites, packaging/assembly, merchandising display packouts, and more.
Returns
MAI can help clients minimize the cost of returns while providing prompt, professional customer service. Our capabilities include inspection/testing, fluff-and-buff services, re-kitting/packaging, and parts replacement.
Freight Management
You can rely on the MAI LogistiX team to get your goods where they need to be, quickly and economically. Whether delivering direct to consumers or to other distribution points, we can minimize in-transit time and maximize shipping discounts.
Reporting
Our team works hand-in-hand with clients to establish reporting parameters for inventory levels, orders shipped, back orders, warehouse, and fulfillment KPIs. Proprietary technology means full flexibility to deliver any type of report required and real-time accessibility at any time from any place.
The Midwest Advantage: Shorter Transit Times, Lower Costs
Centrally located in Elgin, Illinois, our Chicago fulfillment center offers clients an ideal distribution point for their shipping needs. A short drive from O'Hare International airport, MAI is close to major state highways (Routes 14, 31, and 176) as well as Interstate I-90 which adds efficiencies in both shipping and receiving.